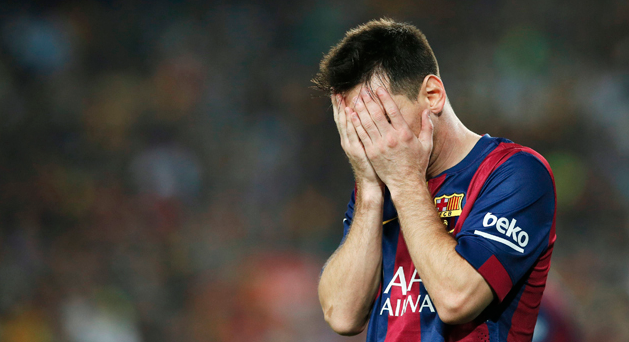 It's been reported that after the final whistle, Lionel Messi and apparently Fernandinho traded a bit of good old banter, Lionel Messi then apparently took offence to the Brazilian who kept him pretty much quiet for most of the game.
Reports state that first a Barca official needed to step in, then Messi apparently trespassed his way into City's side of the stadium changing rooms and was then prevented from going on a rampage to find Fernandinho and calmed down by compatriot Sergio Aguero. Messi apparently did his worst impression of Mr T shouting "Fool, come here and show your face'.
Fernandinho was more than likely enjoying the moment, it could have been over Lionel Messi going down easily after being tackled in the box. The Referee got it right and waved play on much to Messi's bemusement, if you had of asked me last season if I would have liked Lionel Messi at Manchester City I probably would have said Yes.
But after this week and this particular game, I whole heartedly have to say I wouldn't like him at Manchester City. With Messi playing, Barcelona are a one man team. He would just take up valuable space in our team, much like the waning Yaya Toure was, holding us back.
We have some exciting talent coming through the rank and already have Kelechi Iheanacho continuing to show more and more promise. We have Brahim Diaz well ahead of his time at Academy level, we have Lukas Nmecha at EDS level, then we have the imminent arrival of Brazil's shining light Gabriel Jesus.
Lionel Messi at Manchester city would only hamper their progression and push them back further in the pecking order. I'd rather we keep the path clear for these lads, than risk losing them because Lionel Messi is in the way.
Our current squad were phenomenal last night, who could have predicted we'd come back from a goal down, to score 3 past the best club in the world. It must have been a bitter pill to swallow for Lionel Messi, I've noticed every time we've played them in recent times that, he's taken much delight out of beating us through his body language and reaction, which I saw as a huge compliment to be honest.
I'm not surprised he lost his cool, after all Argentina and Brazil share a long and deep history and rivalry. The fact that Fernandinho is Brazilian would have contributed to Messi's outburst.
Great game and performance from the lads, couldn't have asked for more commitment. The only negatives were Raheem Sterling's reluctance to shoot on his first touch and Nicolas Otamendi's calamitous defending. Rather disappointed with Otamendi to be honest, I expected and hoped he'd turn out to be a huge signing for us. I mean he's good but he's no where near Stones or Kompany's level. I believe he was our weak link last night, Raheem Sterling on the other hand had a good night, apart from the opportunity he fluffed into the side netting, he caused a lot of problems down the flank for Barca. There was absolutely stone wall contact in the box, although he went down easy he had every right too and it was a stone wall penalty with out a shadow of doubt. Even the commentators on 3 different channels agreed that the referee got it wrong, onwards and upwards for Manchester City.

"Oh what a night,
"Watching City on a Wednesday night.
"You play Thursday 'cos you're f***ing s***e,
"What a feeling, what a night"

UPDATE: Fernandinho had denied that he's the City player to have an altercation with Lionel Messi, so who is the mystery City player to have riled the best player in the world?